Service & Rental Information
H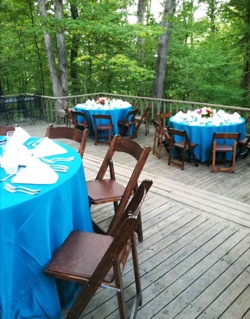 OG WILD & A Moveable Feast Catering Companies are known for our service and attention to detail.
Service
$25/Hour/Event Lead; $20/Hour/Server or Chef
Bartender
$150 for 5 hours. $20/hour for any time over 5 hours. All of our Bartenders are ABC Certified which is required for all venues in the Memphis area.
Delivery/Fuel Surcharge
This fee varies depending on location. Every Delivery or Event will be charged a minimum of $20.00
Bar Service
Pick-up beer/wine/alcohol; cost pass-thru plus $150 service fee for handling
Set-ups
$3.00pp. (Cokes, Tonic, Soda, OJ, Cranberry, Lemons, Limes, Olives, ICE, etc.) Includes non-alcoholic drinks for the non-spirit patrons
Plastic-ware
Heavy Duty Plastic available in Medium Grade and Upscale for an additional cost. $1.25-$4.00 – depending on menu, service needs and type of plastic-ware. We also have a nice line of black laminated foam disposables at no additional cost.
Rentals
Many rental items are available upon request. We are happy to arrange all of this for you and include the rental cost on our invoice to you. Please visit to
Classic Party Rentals
or call 901-366-0670 to see their entire rental offering, ask for David Platt or send him an
email
.
There is a minimum $70.00+/- delivery and pick up fee plus 3% of the rentals for fuel/surcharge, that Classic Party Rentals charges and is passed thru to the client.

Dinner Plate, Salad Plate, Dessert Plate, Dinner Fork, Knife, Spoon, Salad Fork, Dessert Fork, Water Goblet & Linen Napkin-approximately $5.00+/- pp (roughly $.38 - .50+/item)

Barware-Wine glasses & hi ball glasses are $.40/each and up in racks of 25. You will need approximate one of each for every guest and more if wine is served at the table. Pricing on other barware may be higher.

Linens run from $10-16 each. Tables are $8-$12.50 each depending on size. Chairs are $.85-$9.00+ each depending on style.
Need a specialty service not listed below? Let us know! We'll work hard to provide the right services for your event.
Please call HOG WILD & A Moveable Feast Catering Companies at (901) 522-9453
or contact us online to plan your next event.
Our mission at
Hog Wild & A Moveable Feast Catering Companies
is to provide a positive and family like work environment for our employees. We ensure our clients satisfaction and exceed their expectations by creating innovative menus while keeping in mind the client's vision and budget, providing extraordinary service, and over the top food presentations.