History of Hog Wild - Real Memphis Barbeque
I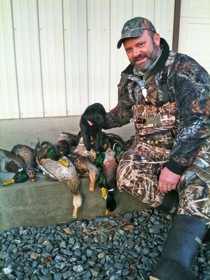 n 1983, Ernie Mellor and Tripp Murray were sitting around the deer camp cooking a wild hog they had harvested that morning. They weren't exactly sure how the barbeque would turn out, but they knew it wouldn't be bad. Man, were they right, it was great. This was just the beginning of a "real good thing." One of Ernie's friends had an annual "bang-up block party" and asked Ernie and Tripp to cook the barbeque. The folks were raving over the barbeque. "This stuff is incredible!" became the regular compliment. Over the next few years Ernie and some close friends started catering BBQ from the house. They would cater about 6-8 large parties a year. This was a side job for Ernie while working full time in professional sales at Morgan Keegan, Econocom, and Medtronic-Sofamor Danek.
I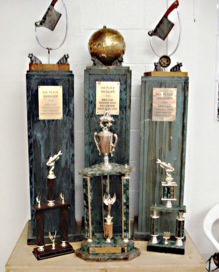 n 1985, a mutual friend of Ernie and Tripp asked them to be on his barbeque team, "The Rolling Wonder Pigs," at the Memphis in May World Championship Barbeque Cooking Contest. They were now in the major league, and would be competing with the best barbeque cooks in the world. After several years of cooking, asking questions, eating, listening, watching, eating, learning, trial and error, playing with recipes, eating some more, changing and honing those recipes, they became World Class Barbeque Chefs.
In 1987, Hog Wild was formed. In 1993, all of their barbeque education paid off. They finished second at the Memphis in May World Championship Barbeque Cooking Contest, and then ninth in 1994. In 1997, Hog Wild's Killa' Wet Sauce took an unbelievable fourth place finish in the HOT/TOMATO category of the American Royal International Barbeque Sauce Contest in Kansas City. Then they received another runner-up spot at the MIM World Championships in 1998. In 2001, the new millennium, they received their third MIM World Championship runner-up trophy and finished third in the tomato barbeque sauce contest.
Edward Labry, a close friend of Ernie's for 2 years, joined the HOG WILD Competition Team in 1994. As a corporate backer, Ed allowed Hog Wild to fulfill a dream by taking their weekend catering company and helping them turn it into a well-oiled machine to pursue the passion for barbeque in a very big way. On June 1st, 1997 HOG WILD was officially opened as a full service BBQ Catering Company. They had one goal, and it was to provide `competition quality' BBQ to its clients.
I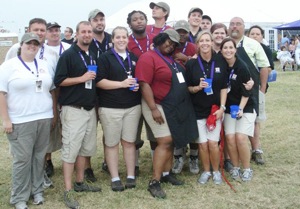 n April 1998 the St. Louis Cardinals Triple-A farm team, The Redbirds, moved to Memphis. HOG WILD secured the barbeque concessions contract. This is where the evolution of the "BBQ Nachos" was born. You can now find BBQ Nachos in every BBQ restaurant in town.
We quickly learned that folks love their BBQ but they also do a lot of parties on the upscale side without the BBQ. We jumped straight into the gourmet side of the business, luckily we were surrounded by the right people and clients who were willing to give us a shot at their `nicer' food affairs. In 2001 Hog Wild added a second name to the company to market the upscale catering called-`A Moveable Feast'.
We now handle an array of events, from Memphis Barbeques; Delta Catfish Fry; cocktail parties with heavy hors d'oeuvres; bridal & baby showers; bachelorette, engagement parties; and even Black-Tie Wild Game Dinner fundraisers; we have done it all. In fact in the month of December 2012 we catered 120 events and served over 14,000 guests.
We look forward to continued success in the years to come. We wouldn't be where we are today without wonderful clients like YOU, and with the utmost sincerity we say THANK YOU!
Please call HOG WILD & A Moveable Feast Catering Companies at (901) 522-9453
or contact us online to plan your next event.
Our mission at
Hog Wild & A Moveable Feast Catering Companies
is to provide a positive and family like work environment for our employees. We ensure our clients satisfaction and exceed their expectations by creating innovative menus while keeping in mind the client's vision and budget, providing extraordinary service, and over the top food presentations.